Even, Beckwith to Defend Millen Mile Titles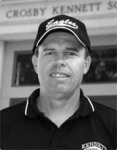 September 02, 2013
Event honors Gary Millen, who died unexpectedly in 2006 and left a 30-year legacy as both a teacher and head football coach at Kennett High School.
By The Conway Daily Sun
CONWAY, N.H. — Officials for the Gary Millen Foundation announced this week that the third Gary Millen Mile will take center stage at half-time of the Kennett High home football game this Friday. Organizers were thrilled to see race record holders Tim Even and Leslie Beckwith willing to return to defend their crowns.
Even, of Fryeburg Academy and University of Southern Maine, ran a track record 4 minutes, 28 seconds in winning the second Millen Mile last fall. A great crowd supported the entire evening. Kevin Tilton, a two-time member of the U.S. Mountain Running Team, who set the school record in the Mile on the oval at Gary Millen Stadium four years ago in a time of 4:41, broke that mark in 2011 when he won the inaugural Millen Mile, clocking 4:38.7.
Bernie Livingston, head track and cross country coach at Kennett High and Millen Mile organizer, said there are 10 men registered for Friday's race and four women.
"We have enough men, but I'd like to see a few more women enter," he said and explained the race is open to runners aged middle school and up. Interested female runners should contact Livingston at 447-6626 or by email at bernliv03818@yahoo.com
"It's going to take place at half-time of the first home football game against Hollis-Brookline," Livingston said. "... I think we have a very strong field, it should be another great event."
Continue reading at: www.conwaydailysun.com