Elite runners highlight inaugural Yakima Mile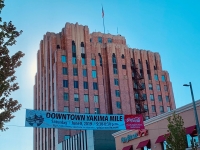 June 07, 2019
Kampf, Haiss, Herrera, Haney, Tripp, Harris, Bartelsmeyer top fields; $23,800 Elite prize purse; second stop on BBTM Grand Prix Tour 2019 presented by Running Warehouse
By Luke Thompson, Yakima Herald-Republic
The organizers for Saturday's inaugural Downtown Yakima Mile figured if they could raise enough money, it might attract a few elite runners.
After raising $100,000 from local sponsors, co-founder Chris Waddle tried to maintain reasonable expectations. Still, they set their sights high and began reaching out to sports management agents in May, hoping to find elite runners looking for races to prepare for July's USA Track & Field Championships and the World Championships set to begin in late September.
"We thought if we could get one or two really decent sub-4 minute Milers or right at 4 minutes and then maybe another 10-15 that were decent runners in high school and were just basically fast enough to make the race interesting, we thought we would be happy for the first year," Waddle said Thursday.
A couple of weeks ago, the phones started ringing.
Nearly every day, Waddle and event planner Michelle Blanchard heard from a new runner, even adding 20-year-old Kenyan Edwin Kiptoo Ngetich less than five days before the race. He's the 10th runner in a loaded field with a personal best under the prestigious 4 minute mark, and two women have clocked 4:19 road Mile times, eight seconds faster than the Washington state record.
If that goes down or one of the men breaks the state record of 3:52.61, the winner would receive an additional $5000 to go with the $5000 first-place check. Another $6,900 will be awarded to the next seven finishers in the elite races.
Weston Strum, Neil Gourley and Blake Haney all agreed that prize money helped draw them in from out of state, and it even enticed Brandon Hudgins to make the trip all the way from North Carolina. Former Brooks teammates Baylee Mires and Natalja Piliusina, who now train separately in Arizona, also said the event's willingness to pay for travel and rooms at the new Home2 Suites Hotel greatly influenced their decision to fly to Washington.
Continue reading at: yakimaherald.com