Diane Leather's Fantastic Sub-Five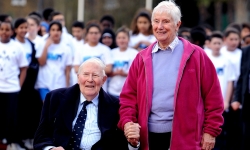 May 08, 2014
The barrier breaker looks back on her historic sub-five Mile of 60 years ago
May 6, 1954, might be a date forever etched in history, but just 23 days after Roger Bannister's barrier-breaking sub-four-minute Mile, a woman made a similar breakthrough.
However, whereas Bannister's achievement is one of the most celebrated in athletics history, the name of the first woman under five minutes is barely known to any who are not avid fans of the sport.
Diane Leather clocked 4:59.6 on May 29 at the Midland Championships in Birmingham, but given the status of women's athletics at the time it is perhaps little surprise she is not a bigger name. It was not until 1967 that the IAAF first recognized women's world records for the Mile and it was only after that that women ran the distance at international level.
Continue reading at: www.athleticsweekly.com