Defending Champions McNamara, Kampf Face Deep Fields at 5th GNC Live Well Liberty Mile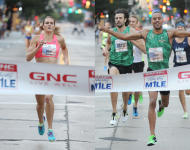 September 13, 2016
Eleven sub-4 minute men and eight sub-4:30 minute women expected in Steel City on Saturday, Sept. 17; $30,000 prize purse presented by GNC Live Well; fifth stop on Bring Back the Mile Grand Prix Tour 2016
From P3R
PITTSBURGH – This year's increased prize purse of $30,000 has attracted some of the country's top Milers to Pittsburgh for the 5th GNC Live Well Liberty Mile on Saturday, Sept. 17. Eleven sub-4 minute men, including U.S. Olympian Ben Blankenship, and eight sub-4:30 minute women will compete for the $5000 champion's prize.
The deep men's field includes 2-time GNC Live Well Liberty Mile champion Jordan McNamara, who will return to the Steel City to defend his title. Last year, McNamara broke the tape in 3:59 and tied the event record set by Craig Miller in 2012.
"Road timing is a different animal than the track, demanding an entire different set of skills," McNamara said. "I thrive in situations that require an ability to improvise on the fly. Ultimately, this year's winner will be the runner who demonstrates sound positioning, flawless execution and, of course, supreme fitness!"
This year, McNamara, 29, will be racing against 2016 Rio Olympian and USA 1 Mile Road champion Ben Blankenship, who finished 8th in the 1500 meters in his Olympic debut. Mac Fleet, the 2015 race runner-up, and Jack Bolas, who finished third in last year's GNC Live Well Liberty Mile, will also return to race.
On the women's side, Heather Kampf is poised to earn an event record fourth GNC Live Well Liberty Mile crown after setting a new road Mile personal record of 4:19.8 earlier this month at the 5th Avenue Mile in New York City. Kampf, 29, who holds the event record of 4:29, is also a 4-time USA 1 Mile Road champion.
"I think the biggest thing that has helped me come back and be successful is the confidence I gain from having finished in front on this course before," Kampf said. "With the downhill finish I find I can start kicking just sooner than I normally would and still have enough at the end, especially because I almost feel like a local in Pittsburgh now with all the incredible fan support I get out there."
Her top competition this year includes Lauren Johnson, who recently won the 2016 Sir Walter Miler and set a new PR of 4:25.04, and Emily Lipari, who recently won the Minnesota Mile in 4:36.9, edging Kampf. Sub-4:30 Milers Rachel Schneider and Christy Cazzola will also be in contention for a top spot this weekend.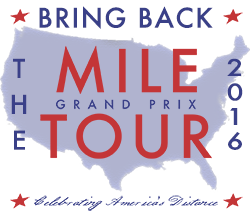 The American Development Pro Mile features $25,000 in guaranteed prize money that goes 7-deep with each race champion awarded $5000. The GNC Live Well Liberty Mile is also the fifth and penultimate stop on the Bring Back the Mile Grand Prix Tour 2016.
Find complete professional field lists HERE.
The USATF-certified, u-shaped course takes participants on Penn and Liberty Avenues in downtown Pittsburgh. For more event information or to register, visit: LibertyMile.org