Daniel Radcliffe to play Sebastian Coe in 'Gold'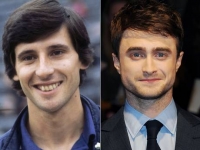 October 30, 2013
Actor to portray rival Steve Ovett not yet cast; movie shooting to begin April 2014
By Andreas Wiseman, ScreenDaily.com
Daniel Radcliffe is to play two-time Olympic 1500 meter gold medalist and former Mile world record holder Sebastian Coe in what will be one of the hottest projects to hit the American Film Market (AFM) next month.
Radcliffe will reunite with Woman in Black director James Watkins on Gold, which will tell the story of Coe's rivalry with fellow athlete Steve Ovett in the years leading up to the 1980 Moscow Olympic Games.
The buzzed-about screenplay is by Oscar-winning writer Simon Beaufoy (Slumdog Millionaire) and Will Davies (How to Train Your Dragon).
Planning is underway for a shoot in the UK and Russia in April next year.
The film is based on the acclaimed book The Perfect Distance by Pat Butcher.
Continure reading at: www.screendaily.com