Cristian Soratos finds stride at Montana State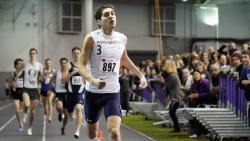 March 13, 2015
"Whether it's Salinas, Hartnell or Montana State, I want to give back to that community in the very end."
By Christopher Chavez, ESPN.com
Cristian Soratos' family is loud.
They were the loudest at the Montana State University Invitational on Feb. 6. His grandparents, Teresa and Arturo Aldape, abandoned the warmth of Mexicali, Mexico, for frigid temperatures in Bozeman, Montana. His godparents, aunt and Tio Pedro Gutierrez, who recently retired after 35 years as a field worker, also packed the stands at Breeden Fieldhouse.
They wanted to catch a glimpse of the Miler. The Miler that sent the running community abuzz.
Soratos received the baton and took off.
He remembered hearing his grandmother yelling, "Vamos Cristian! Corre! Rápido!" His aunt shouted, "Corre Chato!" -- her nickname for him inspired by his snubbed nose.
"Being loud in sports has to be a Hispanic thing," Soratos said.
Soratos anchored the Bobcats to victory in the distance medley relay in a school-record time of 9:55.77. His own split as the 1600 meter leg was 4:02.
Continue reading at: espn.go.com