Cram's Dream Mile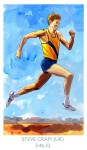 May 09, 2014
"Certainly the easiest record was the Mile. I remember crossing the line and feeling 'woah' and later that night I said to a few people that if I did 3:46 feeling like that then 3:44 was possible."
By Jason Henderson, Athletics Weekly
Of all Steve Cram's record-breaking achievements, his one Mile performance stands out. At the Bislett Games in Oslo on July 27, 1985, he was the height of his powers. Destroying a world class field that included reigning Olympic 1500m champion and countryman Sebastian Coe, he bounded down the home straight with seemingly an extra gear (53 second last lap, fastest ever for a Mile WR!) if he'd needed it and his world record time of 3:46.32 survives as a UK record today.
During an amazing spell of form, Cram smashed three world records in 19 days. It began in Nice with a 1500m of 3:29.67 where by his own admission he was holding on in the final stages to snatch a narrow victory over Said Aouita of Morocco. After his Mile record he then ground out a largely solo 2000m effort of 4:51.39 in Budapest. During the Dream Mile in Oslo, though, he finished with such a flourish that he reckons he was capable of maybe two seconds quicker if he'd been really pushed.
Cram, after all, had not even been going for a record of any kind. His only goal that night was to win.
"I hadn't really set out to break the record that night or anything," he says, casting his mind back to that glorious evening almost 30 years ago. "It was just a case of trying to win the race."
Who can blame him? The field was remarkable with not only double Olympic 1500m champion and Mile world record holder Coe but supermilers such as John Walker, Steve Scott, Ray Flynn, Abdi Bile and Jose Luis Gonzalez.
Pacemakers James Mays and Mike Hillardt led through 400m in 56.01 and 800m in 1:53.82 and as Cram approached the bell in 2:53.14 he was full of running. Coe, who held the world record with 3:47.33 from Brussels three years earlier, began struggle down the back straight for the final time as Cram began to stretch the field. Then, on the final bend, Cram created daylight as he started to glide away and Gonzalez passed the tiring Coe to move into second.
With 100m to go Cram enjoyed a lead of several metres and, as David Coleman said on BBC commentary, "the world champion, the European champion, the Commonwealth champion, the world record holder at 1500m majestically comes striding away … and the world record goes to Jarrow!"
Continue reading at: athleticsweekly.com