Catching Up with the Olympic 1500 Silver Medalist Leo Manzano in Monaco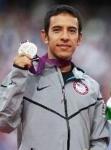 July 18, 2013
Relaxed Manzano looks for 1500m PR at 2013 Herculis Monaco
By Weldon Johnson, Letsrun.com
MONACO – LetsRun.com's Weldon Johnson caught up with 2012 Olympic 1500 silver medalist Leo Manzano in the lobby of his hotel, one day before he races in the super stacked Herculis 1500 tomorrow. The race features a gold and silver medal battle as it also includes 2008 Olympic champion Asbel Kiprop as well as 2011 and 2013 USA 1500 champion Matthew Centrowitz and double Olympic 5000/10,000m champ Mo Farah (interview with Farah here).
Full interview is embedded on the right with a shorter text description below.
Johnson started off by talking to Manzano about his sponsorship status. Manzano said he's still without a sponsor but said he does a good job of not worrying about it too much.
"I'm doing OK. Of course, it's always nice to have a little extra cash in your pocket, but it's not bad," quipped Manzano.
As for tomorrow's race. Manzano is especially excited about the fact that he gets to race U.S. 800m star Nick Symmonds for the first time at 1500 on a huge setting. They raced earlier in the year in the Mile at the Kansas Relays and it was very close.
"At this point, him and I have a very good friendship. We got to train (together earlier this year) in Mexico. It's kind of like we've been travelling together for a while now. We have a very good friendly rivalry going on," said Manzano about the guy whom he is sharing a hotel room with in Monaco."I'm really excited that Nick Symmonds is going to get to race. We've kind of talked about him and I racing a 1000."
Hoping to PR
Manzano realizes the field is stacked and he hopes in turn that he's able to take advantage of that and PR.
"It's a very, very solid field. It's going to be a great race. Every time I've raced here everybody has run super fast so I'm hoping for a very fast time," said Leo the lion.
"I haven't PRed since 2010 so if I get a PR here I'm going to be really stoked."
When asked if he'd rather win or get not PR and get second, Manzano smiled and said, "Both."
Continue reading at: Letsrun.com