Cardiff rises up to go the extra Mile for Sport Relief 2012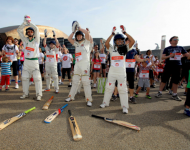 March 26, 2012
More than one million, including Prince Harry & David Cameron, take part in the Sainsbury's Sport Relief Mile
By Penny Post
More than one million men, women and children have taken part in the Sainsbury's Sport Relief Mile this weekend, with a record number of people taking to the streets today (Sunday 25th March) at hundreds of Mile events across the length and breadth of the country.
In Cardiff, 3,971 people donned running gear or fancy dress to do 1, 3 or 6 miles in glorious sunshine. Cardiff Miler Ceri Landers, 62, from Cardiff said: "What an amazing event – I've had so much fun today but more importantly I feel like I've made a real difference to Sport Relief by lining up on the start line and getting sponsored – I've even seen a few famous faces too. Not bad for a Sunday morning."
Famous faces joined Cardiff Milers to celebrate the UK's biggest year of sport including Danielle Lineker, Rhydian Roberts and Rhys from Goldie Looking Chain, among others. Rhydian Roberts was first past the finish line in an impressive five minutes 40 seconds.
Celebrity Miler, Danielle Lineker, said: "I am so proud to be supporting Sport Relief and doing the Cardiff Mile this year. Sport Relief is a great day out for all the family and even better, all the money raised goes to a fantastic cause. We need everyone to go to http://www.sportrelief.com to do their bit and donate now!"
Read more at thepennypost.co.uk