Camel City Elite 2019 Draws Top Mile Fields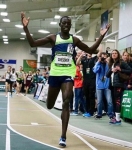 January 03, 2019
Centrowitz, Chelimo, Cheserek, Willis and Lipsey expected at 7th edition; $6000 for race champion plus $1000 bonus money to the winner for bettering time standard as well as for breaking flat track Mile "world record"
From JDL Fast Track
WINSTON-SALEM, N.C. – JDL Fast Track has announced the Mile fields for the 7th Camel City Elite to be held at JDL Fast Track on Saturday, February 2, 2019. For the annual indoor meet, the elite races begin at 2:00pm. The stacked men's Mile field includes rising star and defending race champion Edward Cheserek and Olympic medalists Matthew Centrowitz, Nick Willis and Paul Chelimo. NOTE: Centrowitz and Chelimo have scratched from the race.
"Track & field has a lot of star power right now in the Mile, and Centro, Ches and Chelimo are three of the biggest names in the U.S. and the world right now. We knew that it would be a very special event if we could get all three of them in the same race in 2019, so it was an early goal of ours plus drawing veteran Nick Willis to the field was an added bonus," said facility director and elite athlete coordinator Craig Longhurst.
Paul Chelimo brings the local flavor, as an alumnus of UNC-Greensboro and an Olympic silver medalist at 5000m. Edward Cheserek is the winner of 17 NCAA titles during his time at Oregon and is the facility record holder at JDL Fast Track (3:53.85, also the absolute state record). Nick Willis, a member of four Olympic teams for New Zealand, has earned Olympic 1500m silver & bronze medals, while Matthew Centrowitz holds the trump card with his 2016 Olympic gold medal, the first by an American at 1500m since 1908.
Athletes will be competing for prize money of $6000 for first place, $4000 for second place, $2000 for third place and $1000 for fourth place. Additional prize money is available through 8th place. There are also a race bonus of $1000 to the Mile winner for bettering the following time: 3:58.00, men, and 4:30.00, women.
In addition to paying out the largest first and second place prizes of any non-national championship indoor track meet in the United States, JDL Fast Track is also offering a $1000 bonus to the winner for breaking the unofficial flat track Mile "world record."
If done, the race champion will take home a total of $8000: $6000 first place, $1000 time standard bonus and $1000 flat track WR.
200m flat track Mile records:
3:52.30 Frank O'Mara (IRL), Fayetteville, AR, 01/25/86
4:22.66 Shannon Rowbury (USA), JDL Fast Track, NC, 01/31/15
NOTE: Rowbury's mark is also the North Carolina state absolute Mile record
Below is a list of the professional athletes confirmed for the Camel City Elite Mile:
Men's Mile presented by Mondo
► MATTHEW CENTROWITZ | Nike | 2016 Olympic 1500m gold medalist | World Championship 1500m bronze in 2011 and silver in 2013 | World Indoor 1500m champion in 2016 | Camel City Mile winner in 2016 with a 3:54.02 clocking | @mattcentrowitz
► PAUL CHELIMO | Nike | 2016 Olympic silver medalist at 5000m | Also won World Champs bronze in 2017 | Won Camel City 3000m in 2017 & 2018, clocking facility record 7:45.49 in 2017 | Camel City Mile runner-up in 2018 with PR of 3:58.59 (first sub-4) | @paulchelimo
► EDWARD CHESEREK | Skechers | 17-time NCAA champion in cross country, indoor and outdoor track | NCAA indoor Mile record holder | owner of 2nd fastest indoor Mile ever (3:49.44) | Won 2018 Camel City Mile in facility record time of 3:53.85 | @kingches
► CRAIG NOWAK | ASICS Furman Elite | pacer | NCAA All-American at Oklahoma State | Mile PR of 3:58.93 | @craignowak
► NICK WILLIS | adidas | 4-time Olympian representing New Zealand | Won Olympic silver medal at 2008 Beijing Olympics and bronze medal at 2016 Rio Olympics | Debut at Camel City Elite | @nickwillis
Women's Mile presented by Champion
► GRACE BARNETT | Mammoth Track Club | 2 x NCAA qualifier both indoors (Mile) and outdoors (1500m) | Holds college facility record at JDL Fast Track | 4:33.86 Mile PR
► ABBEY COOPER | New Balance | Formerly Abbey D'Agostino, she was a 2016 Olympian at 5000m | Dartmouth grad won a total of 7 NCAA titles during her illustrious career | Mile PR of 4:28.31 | @abbey_dags
► STEPHANIE GARCIA | New Balance | Member of 2011 & 2015 World Champs teams in 3000m steeplechase | Mile PR of 4:24.68 | @steph_steeples
► CHARLENE LIPSEY | adidas | Attended LSU and was NCAA runner-up at 800m in 2012 | Indoor American record holder at 800m | Mile PR of 4:27.28 set at Sir Walter Miler | @Charlene800m
► ANGEL PICCIRILLO | Juventus TC | 2016 NCAA indoor runner-up in the Mile | Mile PR of 4:32.57 | @angelp_1010
► EMILY RICHARDS | HOKA NJ*NY Track Club | pacer | Won multiple NCAA Championships while attending D3 Ohio Northern | @e_rich2one
Admission for the meet is $10 for adults, $5 for students and kids 12 & under are FREE.
Camel City Elite, a BBTM Featured Event, will be streamed live online at www.jdlfasttrack.com as part of the RunnerSpace +Plus subscription package which starts at $12 a month.
ABOUT JDL FAST TRACK
JDL Fast Track is a privately owned facility that is quickly becoming one of the premier indoor track & field venues in the southeast. Opened in 2012, the facility houses a 200-meter oval track with a Mondotrack FTX surface—the same surface used at the 2012 Olympic Games in London. With a seating capacity of 1,700, ten HD televisions showing real-time field event results, and five high definition projector screens for video playback, JDL Fast Track offers fans a unique track & field experience.