Brenda Martinez driven to be a role model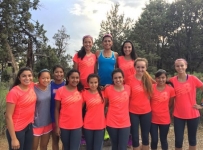 August 04, 2016
"There's more to life than just running. I'm starting to realize that more as I get older. Kids are looking up to me."
By Allan Steele, The Press Enterprise
The Brenda Martinez story is bigger than Brenda Martinez.
The 28-year-old former Rancho Cucamonga High and UC Riverside track star is now an Olympian. It's a journey that started from humble beginnings and featured plenty of rejection and disappointment along the way.
It's a journey that has molded Martinez into a fighter in tough times and humbled her through the glorious times and celebrations.
It's a journey that has made Martinez a role model to young fans, especially girls in the Inland area, and while Olympian has a nice ring to it, it's the role model title that she embraces.
Continue reading at: www.pe.com