Bile, Burcham and Margey break through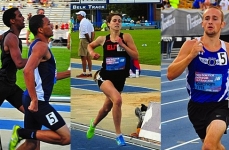 June 17, 2012
By Doug Binder, ESPN / Dyestat
GREENSBORO, N.C. -- All three of them had built stellar resumes, made numerous appearances in big national races, and produced a lot of near-misses.
But Ahmed Bile (Annandale, Va.), Jacob Burcham (Ona, W.V.) and Kelsey Margey (Long Island, N.Y.) all became national champions on Saturday during the final day of competition at the New Balance Nationals Outdoor championships at Greensboro, N.C.
In a meet where some of the star power was siphoned off by the U.S. Junior Championships, all three of these first-time winners earned legit titles.
Continue reading at ESPN.go.com