Andrew Wheating is chasing an Olympic berth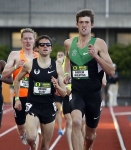 June 17, 2012
Sixth in an occasional series profiling U.S. Olympic hopefuls training for the Summer Games in London.
By Shira Springer, The Boston Globe
EUGENE, Ore. - The Friday morning quiet of Hayward Field is pierced by buzzing mowers and chatting groundskeepers. As they groom the U.S. track mecca, Andrew Wheating strides down the backstretch, engaged in his own meticulous preparations. Tall and lean and light on his feet, he looks more serious than usual. The speed workout ahead will tell him much about his fitness after an injury-plagued year, about the pace of his progress toward this week's U.S. Olympic Track & Field Trials.
Continue reading at: boston.com