An Extra Mile in Memory of Adrian Martinez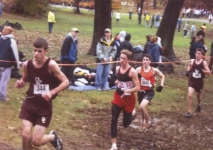 June 28, 2013
An evening of Mile races and fundraiser, the Adrian Martinez Classic returns to Concord next Saturday, July 6.
Patrick Ball, Concord, MA Patch
The thing about sad stories is you can't spoil the ending -- they'll tug at those heartstrings no matter how many times you hear them. But sometimes the sad parts move to the middle, allowing the tale to end on a positive note.
Consider the story of Adrian Martinez:
A champion Miler and team leader when he ran track at Concord-Carlisle High School, Martinez continued to run and complete at Williams College. Tragedy struck not long after graduation. The summer after he finished school, Martinez died after suffering a heart attack while playing soccer with friends. He was 22.
Adrian Martinez died in 2006. The fifth annual Adrian Martinez Classic will be held next weekend.
Part competition, part fundraiser and part memorial, the Adrian Martinez Classic features series of Mile races for runners of all ages and abilities and serves as a fundraiser for the Adrian Martinez Scholarship at Concord-Carlisle and the Friends of CCHS Track and Field.
Continue reading at: concord.patch.com