After illness, Millrose Miler James Burke ready to run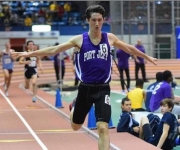 January 08, 2015
"To me, it's the real glory event in track. No matter what event you run in track, people who don't run track are like, 'hey, what's your Mile time?'... People care about the Mile a lot and I'm one of those people."
By Johanna Gretschel, MileSplit.com: 2015 Millrose Games High School Mile Series
What happened to James Burke?
The Port Jefferson senior had a breakout indoor season in 2014, nabbing a coveted Millrose Games spot and racing to All-American honors in the Mile. He finished the season with a 1600m best time of 4:11.82, which tabs him as the third-fastest returner in the nation over four laps. Right now, he sits at U.S. #4 on the national leaderboard, thanks to a 4:17.51 win to nab the first Millrose Games auto qualifier at the Bishop Loughlin Games in December.
But the New York State indoor runner-up finished all the way back in 16th in his signature event at the outdoor state championship. He ran nearly 10 seconds slower at the peak of the outdoor season than he had in February.
The trouble, he says, started at the Penn Relay Carnival last April.
"I was feeling real sick in the days leading up to it, but I was gonna race anyway," he said. "I've raced sick before and it's never really affected me that much."
Continue reading at: http://usa.milesplit.com