A Mile of fun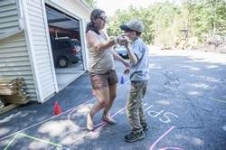 July 31, 2013
Monarch School students have six stations to enjoy in fundraising nature walk at inaugural event
By Mikaela K. Reynolds, Foster's Daily Democrat
ROCHESTER, N.H. — The weather was perfect for the Monarch School of New England's first Mile for Monarch fundraising event. The sun was shining and the air was warm as the students took to the nature path behind the school.
Each student has spent the last few months gathering pledges and sponsors for the event to raise money for student activities.
According to the school's website, they serve students with significant physical, medical, developmental, behavioral and emotional disabilities.
The students, ages 5 to 21, made their way around the quarter-mile path four times.
"It's a way of celebrating education and physical fitness and a way of helping us grow," said the school's Business Development Director Susan DeRoy.
So far, they've raised more than $2200 with more anticipated over the next week. The money they raise will go toward student activities, like therapies, field trips and supplies for student projects for the coming school year.
Donations are still being accepted. To make a donation to the fundraiser, make checks payable to Monarch School of New England and mail them to PO Box 1921 in Rochester.
Continue reading at: www.fosters.com