5 Minutes with Cory McGee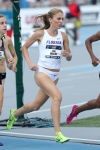 July 17, 2013
The Florida senior-to-be talks about making the U.S. team headed to Moscow for the World Championships
By John A. Kissane, Running Times
Cory McGee got started running alongside her father, Jim, at age 9 in Pass Christian, Miss. But her first taste of racing came a few years later, while the family was living in Greece. Jim McGee, now retired from the FBI, worked as a security liaison leading up to the 2004 Athens Olympics, and Cory took advantage of competitive opportunities, including running her first cross country race in Cairo, Egypt. She was also inspired to witness Moroccan Hicham El Guerrouj run to gold at both 1500m and 5000m in Athens.
Despite a bit of culture shock when she returned to Pass Christian, McGee was glad to arrive back home in 2005. And she went about rewriting the Mississippi high school record books. McGee won a state cross country title while still in eighth grade. She then attracted significant attention a few months later by rolling to a 4:49.32 Mile victory at the 2006 national scholastic indoor championships. A slew of high school accomplishments followed, including four more state cross country crowns and 17 state track titles. McGee scored three runner-up finishes in the Millrose Game high school Mile before winning the race as a senior in 2010.
Wins don't come as easily now, but during the past three years working with coaches Mike Holloway and Paul Spangler at the University of Florida, McGee, now 21, has continued on her remarkable upward trajectory. The 1500m runner-up at NCAA outdoor nationals in June, McGee went on to nab third at the U.S. outdoor championships in Des Moines. But in order to represent the U.S. at the world championships in Moscow in August, she needed to run under the 4:09 "B" standard by July 20. McGee did just that on July 13 in Heusden, Belgium, dipping well under the necessary mark with a 4:06.67, good for seventh in a strong field. She is currently training in Belgium.
Running Times: The race in Heusden started very fast and you went out right behind the pacemaker. Were you concerned after the first 400 that it might be too fast?
Cory McGee: I felt completely comfortable at 200, but we continued to pick it up throughout the first 400 so it wasn't really relaxed. Generally when I imagine a race with a rabbit I would expect it to be a little bit more controlled. I definitely like to get out front and not get caught up in everything that can happen in a 1500 meter race. But as we got around near the 400 meter mark I saw one minute click by and then we were right there, so I knew we were definitely out at a fast pace. I told myself to stay calm and composed. That's something I've really put an emphasis on doing this year in the first 400, just doing whatever I can to stay really relaxed, because if you get through the first lap without sweating it then it becomes a much easier race. So I just made sure I didn't panic and just sat right behind the pacer. I felt a little bit more comfortable with the pace that next lap and it went by pretty smoothly. I don't even remember the second lap because I was really focused and just kind of tucked in there.
Continue reading at: www.runnersworld.com