2015 NCAA Indoor Women's Mile Preview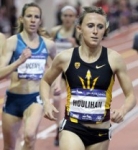 March 11, 2015
1500 meter champion Shelby Houlihan looks to add Mile crown to her résumé
By LetsRun.com
The 2015 NCAA Indoor Track & Field Championships will be held on Friday and Saturday at the University of Arkansas' Randal Tyson Track Center.
This figures to be a terrific race as it features two NCAA champions as well as Colleen Quigley, whose 4:29.67 in Boston on February 13 puts her #5 on the all-time NCAA list (#6 counting oversize tracks). There are several women who could win this race, so let's break them down one at a time.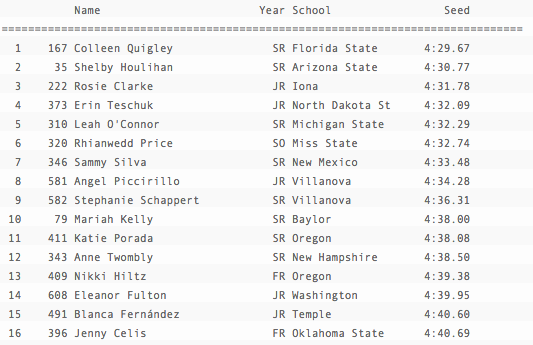 Colleen Quigley • Senior • Florida State • 4:29.67 Season Best
Best NCAA championship results: 6th, 2014 indoor Mile; 6th, 2013 XC; 2nd, 2013 3000 steeplechase; 5th, 2012 3000 steeplechase

Quigley has lost just once this indoor season — back on January 24, to Arkansas' Dominique Scott, who isn't running the Mile at NCAAs — but has otherwise been dominant, posting one of the fastest times in NCAA history at the Valentine Invitational and taking the ACC title over Notre Dame's 4:37 Miler Danielle Aragon on February 28.
There are reasons to be wary, however. First, Quigley is set to anchor the Florida State DMR on Friday night. FSU is seeded just 11th, so it's possible they'll be out of contention by the time she gets the baton, allowing her to save a bit more for the Mile final on Saturday. The bigger consideration is that Quigley's coach, Karen Harvey, resigned right after ACCs.
Continue reading at: www.letsrun.com