2012 NCAA Indoor Mile Champ Primed for Title Defense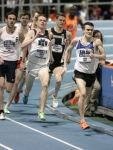 February 28, 2013
University of Tulsa's Chris O'Hare set an NCAA record earlier this month.
By Peter Gambaccini, Runner's World
Chris O'Hare of the University of Tulsa won the Mile at the 2012 NCAA Indoor Championships and will defend his title on March 8 and 9 in Fayetteville, Arkansas. O'Hare ran 3:52.98 for fourth place at the Wanamaker Mile at the Millrose Games on February 2, setting a new NCAA indoor record and a Scottish indoor record. Last weekend, O'Hare, who has been running since the age of 9, won the Mile and the 800 at the Conference USA Championships.
Do you think you have some serious competition in the NCAA indoor Mile? After your 3:52.98, who are the fastest college Milers this season?

Chris O'Hare: Lawi [Lalang of Arizona] and Ryan [Hill of North Carolina State] both ran 3:54 at Millrose [3:54.56 and 3:54.89, respectively]. With a 3:54, I think both of them are feeling pretty confident. I know Ryan Hill is a longer distance guy, but he could well do the Mile as well. And he and Lawi are definite threats. And you've got some 3:56 guys.
Continue reading at: runnersworld.com