Toni's Take on Inaugural Kalakaua Merrie Mile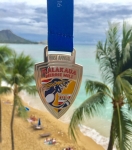 December 12, 2016
Honolulu Marathon weekend road event draws more than 1,300 finishers with professional handicap gender challenge won by teenager Edwin Kiptoo in sub-4
By Toni Reavis
HONOLULU – Oh, you could see this one coming a Mile away. 18-year-old Kenyan Edwin Kiptoo was obviously the wildcard at this past Saturday's inaugural Kalakaua Merrie Mile. Looking up stats on all the athletes, it soon dawned on me that this kid had never competed outside Kenya in his life. Yet he'd been second at the 2016 Kenyan Junior World Trials, and had a swift 1500 meter PR of 3:38.3 that was run in Eldoret at 7000 feet altitude on a track where 2012 Olympic 1500m champion Asbel Kiprop holds the record at 3:37.0.
"Shoot!" I said to anyone willing to listen, "this is the guy. He's gonna tip this whole thing over."
This "whole thing" was a Wahine vs. Kane street Mile (Women vs. Men) held the day before the 44th Honolulu Marathon. The new event was the brainchild of long-time Marathon President Jim Barahal, with the idea being to get a sprint to the tape with both genders gunning for the win.
The Honolulu Marathon Association stages another such Gender Challenge each spring at its Hapalua, Hawaii's Half Marathon, and the format seemed perfectly suited for a road Mile, too.
In year one the elite field was designed on a University of Michigan basis, which is where Jim went to college and medical school and where marathon race director Jon Cross went to undergraduate and dental school. They ran with 1983 Boston Marathon champion Greg Meyer and current Wolverine women's coach Mike McGuire back in the day in Ann Arbor.
Continue reading at: tonireavis.com