Teen Runner with Autism Shatters 4:00 Mile Barrier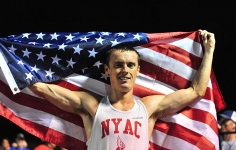 August 09, 2016
Mikey Brannigan sets a Paralympic world record for the T20 classification.
By Alison Wade, Runner's World
At the Sir Walter Miler meet on Friday, August 5 in Raleigh, North Carolina, 19-year-old Mikey Brannigan finished seventh in the Mile, clocking 3:57.58 to smash his previous personal record by more than 5 seconds. In doing so, Brannigan, who is on the autism spectrum, became the first person with a T20 paralympic classification, which refers to intellectual disability, to break the 4:00 barrier.
Brannigan, who is from Northport, New York, will compete in the 1500 meters at the Paralympic Games next month in Rio, where he's the favorite to win the gold. Last October, Brannigan, then 18, won the T20 1500 meters at the International Paralympic Committee World Athletics Championships in Doha, Qatar, upsetting Peyman Nasiri Bazanjani of Iran by 0.03 seconds.
At last month's U.S. Paralympic Trials, Brannigan won the 1500 in a new T20 world record of 3:50.05 and won his race by more than 40 seconds.
Continue reading at: www.runnersworld.com