A streak of a different color, sub-5 Miles for 30 years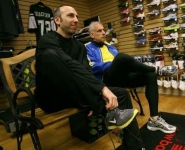 January 23, 2017
"Running wasn't very important anymore, but at the same time, I needed it to keep me sane."
By Madeline Bost, Daily Record
Oh sure, Steve Spence made it into the news for breaking five minutes for the Mile for 41 years straight. Spence, after all is a former Olympian. But he had just turned 54, so it was no small feat to run 4:54 last May. How about you? Do you have a fast time that you have been able to hit for several years in a row?
Gary Rosenberg of Morristown, who has been running since he was a kid, began to wonder if he had a sub-5 streak like Spence. He dug into his running logs to see what he might find.
"Now one thing to keep in mind is that 30 years ago I was not thinking 'Hey, I would like to see how many years I can break five in the Mile,' which I assume goes for Steve Spence as well," said Rosenberg in an email.
Conntinue reading at: dailyrecord.com