The Mission Athletics Club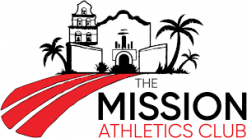 Founded by coach Terrence Mahon & three-time Olympian Jennifer Rhines, husband & wife, The Mission Athletics Club's purpose is to teach our athletes the fundamentals of sport and of life. No short cuts, no time outs, no quick fixes. Success takes time, dedication and a willingness to persevere. It's a relentless pursuit. However, if the mission is planned with care and the work gets done then we can all expect success.
Visit themissionathleticsclub.com for more information.
Twitter & Instagram: @themission_ac