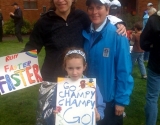 August 22, 2013
Encouraged by 1992 Olympic bronze medalist Lynn Jennings: "that Mile cemented my faith in my ability and determination."
By Sarah Bowen Shea, Another Mother Runner
I'd done a timed Mile before–but never one with the eyes of an Olympian glued to me. This time, Lynn Jennings, the 10,000 meter...
Read More
comments