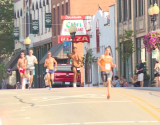 August 02, 2015
"People identify with this race, it's good for the running community... and the high school with the most participation of students and staff won $1,000 toward their athletic department."
By Kelsie Passolt, WREX
Saturday, a short race brought a long list of runners to downtown Rockford. We...
Read More
comments