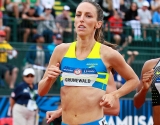 May 10, 2017
Medtronic TC 1 Mile up next for Gabriele Grunewald who endures the uncertainty of her future by continuing to do what she does best.
By Cathal Dennehy, Runner's World
As the clock ticks past two minutes, the first signs of stress announce themselves on Gabriele Grunewald's face.
Her eyes...
Read More
comments