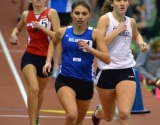 February 04, 2014
"Being invited to the Millrose Games is such a great honor and I couldn't pass it up."
By Brian Deakyne/For The Star-Ledger
Holmdel's Marin Warner (right, in blue) was one of three New Jersey girls invited to run the Mile at the NYRR Millrose Games on Feb. 15 last week.
On Friday, Warner...
Read More
comments