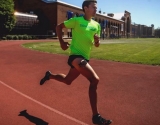 July 07, 2016
And now I'm here... with the chance to earn a spot representing the United States in the Olympic Games. And it almost didn't happen...
By Lex Williams for RRCA.org
RRCA Roads Scholar Lex Williams (2011) is competing in the 1500m at the U.S. Olympic Trials this week in Eugene, OR. Lex also...
Read More
comments