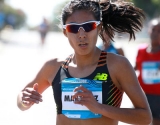 March 20, 2015
"If I'm there in the final Mile or even the final quarter than I will be really excited."
By Duncan Larkin, Competitor Magazine
It's a given that runners—no matter their ability or age–have to be tough. Let's face it: this beloved sport of ours is a demanding one that requires Herculean...
Read More
comments