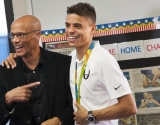 November 09, 2016
Students admired his humility, his athleticism — and the gold medal hanging from his neck.
By Cindy Huang, Capital Gazette
Broadneck High School student Julianna Fernandez lifted up her foot so 2016 Olympic gold medalist Matthew Centrowitz could bend down and sign his name on it.
"These are...
Read More
comments