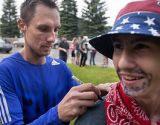 June 13, 2015
"They came to run tonight. It's something they will talk about for the rest of their lives, too: the time they got to go and beat an Olympic medalist."
By Chris Dobrowolski, The Record Eagle
For Noah Robotham, Max Okros, Joey Johnston and Jeffrey Crouch, Monday was a day none of the four is...
Read More
comments