Women Who Revived City Marathon Launch One-Miler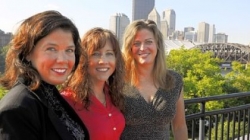 August 16, 2012
By Rita Michel, Pittsburgh Post-Gazette
PITTSBURGH, Pa. - Getting the runners to the starting line in the spring of 2009 was a monumental task.
"It was all-encompassing," said Dee Stathis, who remembered the team joking about "our 60-hour part-time jobs. We had less than a year to put it together," Mrs. Stathis recalled. The reward was more than 10,000 runners entering the race the first year it was back.
"We were just blown away," she said.
And like the runners who crossed the finish line, the team was inspired to keep going. A venture that started as volunteer work became full-time jobs. Patrice Matamoros and Mrs. Stathis now operate out of an office on River Avenue on the North Shore with a staff of 10.
Among their North Hills staffers are Adrian Deithorn, director of development, from Allison Park and Joan Gohh, director of administration, from Franklin Park.
That staff is now working on the GNC Live Well Liberty Mile, a one-Mile race set to start at 17th Street in the Strip District and follow Liberty Avenue to the finish line at Sixth Street in the Golden Triangle.
Continue reading at: post-gazette.com