Mile Guide: 2013 NCAA Indoor Championships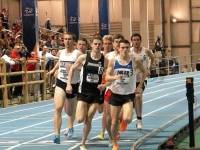 March 07, 2013
Chris O'Hare, Emma Coburn enter championships as favorites
By Bring Back the Mile
Last year 33 collegiate men broke the four-minute barrier, a record, and a substantial increase over the 22 that did so in 2011. In fact six sub-4 Milers stayed home having to watch the NCAA Championship on television. The competition was so strong that newly minted NCAA indoor Mile record holder with the most appropriate of names, BYU's Miles Batty, finished third in the NCAA Mile final. So how did the collegiate Milers handle the post-Olympic hangover after such an impressive 2012?
2012 NCAA Mile Champion, Chris O'Hare (Tulsa / GBR), chopped over a second-and-a-half off Miles' Mile record, racing to a 3:52.98 at the famed Wanamaker Mile.
31 men broke four minutes in the Mile, with eight of them on the outside of the NCAA meet looking in.
Cornell's Nick Wade would have made it nine, but was an eyelash's length away from being the 397th American to break four minutes, setting his PR at 4:00.00.
Lawi Lalang (Arizona / KEN) and Ryan Hill (NC State) both come into the meet with sub-3:55 Mile bests this year; 3:54.56 for Lalang and 3:54.89 for Hill.
2012 Olympic steeplechaser, Emma Coburn of Colorado, decided to trade jumping steeple barriers for the magic of the Mile and was rewarded with a collegiate leading 4:29.86, the 44th American woman to break 4:30 in the Mile. With Dartmouth's Abbey D'Agostino (4:30.03) choosing the 5000m / 3000m double, there is over a two second margin between Coburn and Florida's Cory McGee (4:32.10). Will Coburn follow in the footsteps of another notable CU steeplechase alum in mastering the Mile?
37 women have broken 4:40 in the Mile in 2013 to-date; a signifcant increase from the 29 who did so in 2012 and the 20 breaking 4:40 in 2011.
While 2011 IAAF World Champion Jenny Simpson at the Metric Mile clocked a 4:25 indoor Mile collegiate record at CU, LetsRun.com displayed the uncanny similarities between Simpson and Coburn in the 800m, 1500m and steeple:
* Simpson: 2:09 / 4:11 / 9:22
* Coburn: 2:09 / 4:09 / 9:23
Only five women from the 2012 field have returned for 2013 (Friday, Kesselring, McGee, Osika and Strausa)
A new champion will be crowned in the indoor Mile. In the last 15 years, there have been no repeat champions and only two women have managed to win the NCAA Indoor Mile title for a second time - Carmen Douma (Villanova / CAN) in 1998 & 2000 and Johanna Nilsson (NAU / SWE) in 2004 & 2006.
On the prep-end of the competitive spectrum, the New Balance Indoor National Championships are also this weekend at the Armory in New York. Go to http://www.nationalscholastic.org/nbin for complete start lists, information and results.
2013 NCAA Track & Field Championships
Fayetteville, AR, Friday, March 8 - Saturday, March 9
BROADCAST SCHEDULE
NCAA Women's Accepted Entries
Meet Record: 4:29.72, Sarah Bowman (Tennessee), 2009
NCAA Record: 4:25.91, Jenny Simpson (Colorado), 2009
USA Record: 4:20.5, Mary Slaney (OR), 1982
World Record: 4:17.14, Doina Melinte (ROM), 1990
NCAA CHAMPIONSHIPS WOMEN'S MILE: SEMI-FINAL 3/8 @ 6:30PM EST - FINAL 3/9 @ 7:00PM EST
NAME
SCHOOL
YEAR
SEED TIME
Emma Coburn
Colorado
SR
4:29.86
Cory McGee
Florida
JR
4:32.10
Amanda Winslow
Florida State
SR
4:33.22
Rebecca Tracy
Notre Dame
SR
4:33.22
Jillian King
Boston College
SR
4:34.19
Laura Roxberg
Missouri
SR
4:34.59
Vicky Fouhy
Virginia
SR
4:34.87
Anne Kesselring
Oregon
SR
4:35.33
Becca Friday
Oregon
SR
4:35.34
Amanda Mergaert
Utah
SR
4:35.35
Carly Hamilton
Georgia
SO
4:36.06
Kelly Williams
West Virginia
FR
4:36.77
Rachel Schneider
Georgetown
SR
4:37.08
Christine Babcock
Washington
SR
4:37.57
Agata Strausa
Florida
JR
4:37.58
Shannon Osika
Michigan
SO
4:37.91

NCAA Men's Accepted Entries
Meet Record: 3:55.33, Kevin Sullivan (Michigan), 1995
NCAA Record: 3:52.98, Chris O'Hare (Tulsa), 2013
USA Record: 3:49.89, Bernard Lagat (AZ), 2005
World Record: 3:48.45, Hicham El Guerrouj (MAR), 1997
NCAA CHAMPIONSHIPS MEN'S MILE: SEMI-FINAL 3/8 @ 6:45PM EST - FINAL 3/9 @ 7:10PM EST
NAME
SCHOOL
YEAR
SEED TIME
Chris O'Hare
Tulsa
SR
3:52.98*
Lawi Lalang
Arizona
JR
3:54.56
Ryan Hill
North Carolina
SR
3:54.89
Robby Creese
Penn State
SO
3:57.11
Michael Atchoo
Stanford
JR
3:57.11
Raul Botezan
Oklahoma State
SR
3:57.79
Julian Matthews
Providence
SR
3:58.14
Austin Mudd
Wisconsin
SO
3:58.59
Brett Johnson
Oregon
JR
3:58.62
Joseph Stilin
Texas
SR
3:58.66
Tyler Stutzman
Stanford
SR
3:58.85
Mac Fleet
Oregon
JR
3:58.90
Matt Miner
Oregon
SR
3:59.01
John Simons
Minnesota
JR
3:59.32
Christopher Fallon
Ohio State
SR
3:59.37
Robert Denault
Villanova
SO
3:59.39
* NCAA Men's Indoor Mile Record