Manzano Headlines Diversity Panel at Running USA 2014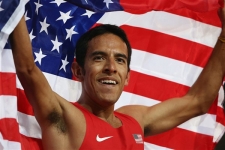 January 05, 2014
Engaging, thought-provoking general session to address key issues, challenges and objectives; register today for The 11th Industry Conference powered by ACTIVE Network on February 9-11 in San Diego
From Running USA
COLORADO SPRINGS, Colo. – (January 5, 2014) – At Running USA 2014: The Industry Conference powered by ACTIVE Network, one of the general sessions will be How to Bring More Diversity to the Sport. Slated for Tuesday, February 11 from 8:30 – 10:30am, the panel will include Leo Manzano (2012 Olympic 1500m silver medalist), Tina Klein (Balanced Running, LLC), George Banker (Army Ten-Miler), Tony Reed (National Black Marathoners Association) and Walter Bland III (consultant). The 11th edition of the sport's premier and largest conference will be held on February 9-11 at the Marriott Marquis & Marina on San Diego's beautiful waterfront.
"As documented and reported by Running USA over the past decade, our sport is booming in participation, but compared to their percent of the general population, minorities are underrepresented in road races," said Creigh Kelley, panel moderator. "With attendees, this esteemed panel will discuss how to bring more African Americans, Latinos and other groups to the sport and the starting line as well as examine the barriers and challenges."
Presenting sponsors of Running USA 2014 are Ashworth Awards, ChronoTrack, Competitor Group, Leslie Jordan, Inc. and MarathonFoto.com.
Register today for Running USA 2014 powered by ACTIVE Network
The conference rate is $649 for Running USA members / $849 non-members, and conference registration includes daily meals during the conference and admission to the Hall of Champions Awards Dinner. The next rate increase – $699 member / $899 non-member – will be January 16, 2014.
On-line registration, schedule, attendee list, hotel, travel and other information for Running USA 2014 is available at: www.runningusa.org/running-usa-conference
About Running USA
Running USA advances, serves, promotes and celebrates the sport of running as a clearinghouse and resource center and though its popular annual conference, website, Running USA wire, Running USA Industry E-News, National Runner Survey, annual marathon, half-marathon and State of the Sport reports, and by providing athlete support via the Allan Steinfeld Development Award.
Running USA's more than 340 members include events with 2-plus million finishers and prize money exceeding $6 million, race services companies, running-related media companies and organizations and the athletic industry. Visit RunningUSA.org for more information.