LBSU's Maldonado enjoying magic Mile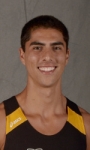 March 01, 2012
49er track standout picked his spot and succeeded, becoming program's first sub-4-minute miler last weekend in Washington.
By Bob Keisser, Press Telegram

Pursuing what is still considered the Holy Grail of track and field middle distance running, a sub-4-minute mile, is one thing. It's another altogether to plan to do it on a certain day, in a certain meet.
That's what Matt Maldonado did last weekend. The Long Beach State senior, who had turned in a 4:00.70 mile earlier in the 2012 indoor track season, chose to chase down a bit of history and become the first 49er to ever run a sub-4-minute mile at the Mountain Pacific Sports Federation Championships in Seattle.
Read complete article at www.presstelegram.com