HOKA ONE ONE Becomes Presenting Sponsor of 2014 Adrian Martinez Classic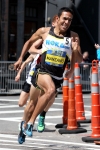 April 30, 2014
HOKA ONE ONE athlete and 2012 Olympic silver medalist Leo Manzano headlines Mile race for June 5 meet
RICHMOND, Calif – HOKA ONE ONE, a division of Deckers Outdoor Corporation, is pleased to announce the brand has signed on as Presenting Sponsor of the 2014 Adrian Martinez Classic, a meet that features a series of middle distance contests including 800 meter, Mile and 5000 meter races.
In its 6th year, the 2014 Adrian Martinez Classic has evolved into a world-class running event that draws stellar track athletes from across the nation. Scheduled for Thursday, June 5 at Emerson Field in Concord, MA, the Adrian Martinez Classic will include 2012 Olympic 1500 meter silver medalist and HOKA ONE ONE athlete Leo Manzano.
"We are honored to partner with the Adrian Martinez Classic as the Presenting Sponsor," said Jim Van Dine, Brand President at HOKA ONE ONE. "This is a community running event that has grown into a world-class competition that attracts some of the fastest track & field runners in the country. We're expecting an all-star cast to attend and already it's shaping up to be one of the most distinguished track events of the spring season. But we are keeping with the original spirit of the meet, so we will still have 'age group all-comer' Mile races as well."
"HOKA's commitment is a game changer for the Adrian Martinez Classic," said Race Director Stephen Lane. "Their support helps us fulfill our vision for the Adrian Martinez Classic - an event that brings together the entire running community, from very best in the sport, to novice runners; and from youth to seniors. We are thrilled to have Leo Manzano, one of the top performing Milers in the history of the USA committed to our meet. And with a lot of other top athletes competing, we should have very exciting fields in each of the events."

A USATF-sanctioned event, the Adrian Martinez Classic began as a tribute to a great runner and wonderful young man, Adrian Martinez. Adrian was a top runner at Concord-Carlisle High School, team leader, and all around great guy. The Martinez Classic serves as a fundraiser for the Adrian Martinez Scholarship Fund at Concord-Carlisle High School (which is administered by the CCHS Scholarship Fund), and for the Friends of CCHS Track & Field, which supports the Track & Field teams at CCHS.
For more information, go to: www.martinezclassic.com