Gabriele Anderson, Heather Kampf to Compete at Grand Blue Mile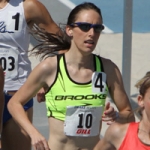 April 23, 2012
Matt Gabrielson, Emily Brown at Get in Gear 10K on April 28
MINNEAPOLIS – (April 23, 2012) – Team USA Minnesota's Gabriele Anderson and Heather Kampf will be in Des Moines this week to compete in the Grand Blue Mile on Tuesday, April 24 and then at the Drake Relays 1500 meters on Saturday, April 28. [Editor's Note: Gabriele Anderson was a late scratch from the Grand Blue Mile due to food poisoning; she should recover to run the 1500 on Saturday.]
The Mile races in downtown Des Moines are part of the Drake Relays festivities, with the women's invitational road Mile starting at 7:15pm on Tuesday evening. Anderson's best in the road Mile is 4:31.05 and Kampf has posted 4:30.95. Last year, Anderson finished third in the Grand Blue Mile and Kampf was fifth.
Anderson and Kampf are no strangers to the Drake Relays, having competed there during the time they were student athletes at the University of Minnesota and since they became professional athletes with Team USA Minnesota. Last year, Anderson was third in the 1500 meters and Kampf was sixth at Drake.
Anderson most recently finished third with a time of 4:46 at the Boston Invitational Mile on April 15, a race that was her season opener. She has a best in the 1500 meters of 4:06.77.
Kampf started her 2012 season on the indoor track with a 4:41 in the Mile at the Jack Johnson Minnesota Classic in January, and 2:04 in the 800 meters at the Parents Day Open in February. She has a best in the 1500 meters of 4:12.09.
Get in Gear 10K – April 28
Matt Gabrielson and Emily Brown will be among the competitors at the 35th Get in Gear 10K on April 28. The race, which starts at 9:00am, will begin and end at Minnehaha Park in Minneapolis.
Gabrielson is the defending champion, having won the event last year in 29:45. Brown last competed at the Get in Gear 10K in 2010 when she finished runner-up in 34:00.
About Team USA Minnesota
Team USA Minnesota is based in the Twin Cities of Minneapolis/St. Paul. Formed in 2001, the purpose of the training center is to improve the competitiveness of post-collegiate American distance running and to develop Olympians. The athletes are coached by Dennis Barker, head cross country and track coach at Augsburg College in Minneapolis. Team USA Minnesota's major sponsor is Life Time Run and its silver sponsor is Twin Cities In Motion. It is also supported by the New York Road Runners and the USA Distance Project, and in 2010, the training group won the inaugural Allan Steinfeld Development Award from Running USA.
For more information, go to: www.teamusaminnesota.org