Alan Webb Is Moving, But Where?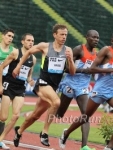 September 24, 2012
By Peter Gambaccini, Runner's World
Is American Mile record holder Alan Webb going to end up in Portland, Oregon? Piecing together what information we do we have -- we haven't gotten responses from Webb or from his agent Ray Flynn, but will update if we do -- the answer is looking more and more like "yes."
What we know for sure is that Webb's most recent coach in Virginia, Jason Vigilante, has left for New Jersey to coach at Princeton. A couple of weeks ago, Webb wrote to Runner's World Newswire that he was enjoying hanging out with his new baby daughter and hadn't yet made a decision about a future coaching arrangement, nor about where he'd be situated.
Continue reading at: runnersworld.com