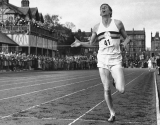 October 21, 2017
Bannister raced for one more event then retired to concentrate on his medical career. His niche in sport history forever assured.
By Eddie G. Alinea, The Manila Times
Many had come close to it, but were eventually thwarted as if held back by powers unseen and demonic.
They all were, until...
Read More
comments