Wonderful, Magical, Magnificent Mile!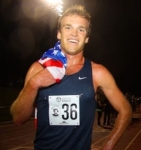 September 20, 2014
Other Mile races will increase awareness and participation overall...as the old saying goes – "A rising tide lifts all boats."
By Teri Saylor, Running Journal
When I was in college, all freshmen were required to pass a physical education exam that ensured we could swim, tread water or float for 10 minutes and run a 10-minute Mile. While I was an active kid, I was not very athletic, so I was as nervous about the freshman sports challenges as an English major in a chemistry lab.
I trained for an entire semester to make it. Colleges and universities mostly did away with those requirements, but thanks to a team of runners and journalists, the Mile is making a comeback.
Bring Back the Mile aims to replace the 1500 and 1600 high school middle distances with a true Mile – 1,760 yards, and also to promote the Mile and to encourage Americans to include a Mile run in their everyday exercise routines.
The group's website BringBackTheMile.com describes the Mile in poetic terms: "magic, iconic, classic and timeless." And here in Raleigh, we have our own description: "popular."
The popularity of the Mile race in Raleigh is due to the imagination and hard work of a handful of folks, a couple of quirky races, and one revered Englishman who set the bar for a fast Mile pretty darn high.
Here are their stories.
Continue reading at: http://running.net