School Teacher Might Make World Championships Team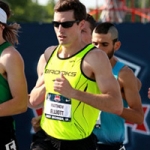 June 26, 2013
Unknown Matthew Elliott, a 4:42 high school Miler, was 4th in the 1500 at USA Championships.
By Peter Gambaccini, Runner's World
Before last weekend, Matthew Elliott had never made an NCAA or USA Championships final and never broken 3:40 for 1500 meters, and you'd never heard of him unless you live in Rock Hill, South Carolina. Somehow, he eked his way into the 1500 final at the USA Outdoor Track & Field Championships. In the closing meters of the tactical final, he swept past some of the top American Milers to finish fourth, which, at this point, means it's possible he may represent the United States at August's World Championships in Moscow.
That was merely the second most memorable thing Elliott, 27, did in Des Moines. The first was to give Flotrack a post-race interview lasting all of 55 seconds which was, in a weekend when Mary Cain and Galen Rupp made headlines, the video that went viral, the video everyone who saw it will take away from the championships, the one that had adults joining Elliott in his unguarded tears of joy.
Continue reading at: runnersworld.com