Ryun reflects upon 50th anniversary of breaking 4 minute Mile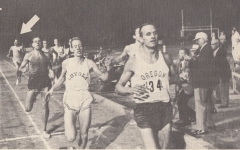 June 04, 2014
"When I crossed the finish line, I was a little discouraged, because I thought I hadn't done it."
By Rick Plumlee, The Wichita Eagle
Six hundred yards into the Mile race, Jim Ryun was bumped in the tight pack of runners. He stumbled off the track to the infield.
"I wasn't even sure I'd finish the race," he said.
That was 50 years ago Thursday, June 5 at the Compton Invitational in the Los Angeles area.
Ryun, a Wichita native who later became an Olympian and set world records, recovered and did finish.
His time of 3 minutes, 59 seconds made him the first high school boy to run a Mile in less than 4 minutes.
But don't look for any iconic pictures of Ryun finishing that race. Certainly nothing like the dramatic picture of him crossing the finish line nearly a year later when he won the Mile at the State track meet in Wichita with a 3:58.3 clocking.
When you finish eighth – as Ryun did that night in Compton – no one is waiting to take your picture.
Ryun, however, also was a 17-year-old junior at East High School competing against a world class field of older runners.
His placing didn't matter. His time of 3:59 did.
Continue reading at: kansas.com