Running Community Mourns Olympian David Torrence, Found Dead at 31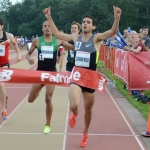 August 29, 2017
Torrence was famous for speaking his mind — whether it was to show his emotions or to denounce performance-enhancing drugs.
By Bill Chapell, NPR
David Torrence, an athlete who ran in last year's Rio Summer Olympics and had been training for more races, was found dead in a swimming pool in Scottsdale, Ariz., on Monday, according to local news reports and Torrence's friends.
"The track world lost a great friend and athlete today," USA Track & Field said in a tweet about the 31-year-old runner's death.
Torrence, a popular member of America's running community, was found at the bottom of an apartment complex's pool Monday morning, the Arizona Republic reports, citing Scottsdale police. A cause of death has not been reported; his death is under investigation.
A California native, Torrence was a middle-distance runner who holds the American indoor record for the 1000 meters. From 2009 to 2011, he won three straight USATF Road Mile titles. In 2012, he was the fastest U.S. Miler with his 3:52.01 personal record at the Prefontaine Classic. Torrence also won silver medals at the 2014 IAAF World Relay Championships and the 2015 Pan American Games.
Continue reading at: npr.org