Elle Purrier Spending Her COVID-19 Spring at Home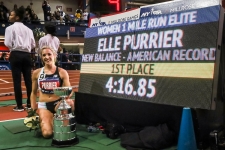 May 11, 2020
"I definitely have more fun with the 1500 and the Mile. That's what I would prefer to do..."
By Sieg Lindstrom, Track & Field News
Call it a long, loooong weekend. Or "there's no place like home." It's the story of Mile star Elle Purrier's spring at her family's dairy farm in northern Vermont. Not at all what she bargained for after knocking what for 38 years had been Mary Slaney's indoor Mile U.S. record down to 4:16.85 at the Millrose Games. The time was just 0.14 off Slaney's absolute AR.
In what started as the Tokyo Olympic year, Purrier and coach Mark Coogan planned a buildup to the all-important Trials in June as any elite runner would. COVID-19, of course, changed everything.
"Yeah, I've been here quite a few weeks since March," says the '18 New Hampshire grad. "Here" is the region just south of the Canadian border where her family—as well as the family of fiancé Jamie St. Pierre—operate dairy farms. "I came home for like the weekend. Then we decided we weren't going to practice together so I've basically just been here since. It's been pretty nice, honestly, just to be able to see my family and be at the barn and everything. I'm able to get outside and not feel cooped up like I'm sure a lot of people do in the city.
"Training by myself is definitely challenging and a little bit lonely. But I think I've made the most of it."
At the moment, uncertainty is a prevailing feature for Coogan's New Balance Boston Elite group. "We're basically just kind of anticipating there maybe being a smaller season this fall," she says. "So we're actually doing training right now that I already did this past fall. We're kind of just doing base stuff, just like to keep in shape, but not doing any workouts on the track and just doing more general tempo runs and strength stuff."
On the farm the 25-year-old Purrier keeps moving even in the hours when she isn't training. "I help with chores at least once a day lately," she says. "So I've been milking and obviously you have to feed the cows every day and scrape and, I don't know, there's always little jobs to do around outside. We built some fence the other day 'cause they're getting ready to put the cows back out. Luckily it's been a pretty warm spring so I feel like we've been able to get some of the spring jobs done a little bit earlier.
"And last year, this time I was all the way out in Flagstaff [training at altitude]. It's kind of crazy 'cause I haven't been around, April is always a pretty busy month for me. So I've missed all of these things going on on the farm like every year since I've gone to college. So it's been kinda nice." Though stressful at the same time for farmers.
Continue reading at: trackandfieldnews.com