5 Minutes with Emma Coburn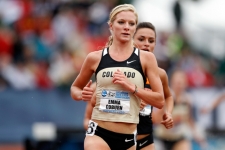 May 21, 2013
The Colorado senior, who made the final of the Olympic steeplechase last summer, talks about her sub-4:30 Mile, spring racing and her post-graduation plans
By John A. Kissane, Running Times
Who is the most dominant female collegiate distance runner today? That's impossible to answer. But Emma Coburn's performances over the past three years show she would deserve consideration. Coburn, a senior at Colorodo, currently sits comfortably atop the collegiate steeplechase list with a 9:28.26 from her victory at Payton Jordan on April 28; her nearest rival (Cornell junior Rachel Sorna) has a best of 9:50.39. Indoors, Coburn rolled to the NCAA Mile in 4:29.91 and also recorded a personal best of 4:29.86 in the event at the Millrose Games in January.
Coburn, 22, isn't just tops in the college ranks; she's been the #1 American steepler the past two years. She made the steeplechase final at the 2011 World Championships and at the 2012 Olympics. Though she says she's not looking beyond next month's NCAA championships, she is expected to be a factor in the steeplechase final at this summer's World Championships in Moscow.
A low-mileage runner as a prep athlete at Crested Butte Community School, Coburn hit only around 15 miles a week during high school track seasons. Colorado coach Mark Wetmore was careful to build her volume gradually, and these days Coburn tops out at about 80 miles a week. For a year and half she had Jenny Simpson as a Colorado teammate and inspiration, and this winter, Simpson was back in Boulder training under Wetmore. Simpson provided the ideal workout partner for Coburn, who didn't race for the six months between London and Millrose.
Continue reading at: http://www.runnersworld.com