Results HERE.
Have you ever wondered how fast you could run a Mile on the road? Find out at the Mile of Truth in Danville, CA. The iconic distance is unique in its ability to stoke the fire of even the most competitive runners. It's 5,280 feet of pure, unadulterated effort!
As part of the 43rd running of the Devil Mountain Run 5K & 10K, the 4th Mile of Truth will be contested on a USATF-certified 2-loop course in the heart of downtown Danville.
The Mile is back in 2022 hosting this year's event on Sunday, September 18th with a cash purse for those willing to push themselves. While we are not a grand prix championship this year, stay tuned for 2023 with some exciting news forthcoming that is sure to bring out the masses in pursuit of the fastest Miler.
Prize money will again be offered for our top finishers as in past years with Elite Open prize money going 4-deep per gender = $500 winner, $250, $150 and $100.
New for 2022: Course Record Bonus
In addition to the overall prize purse, there will be awarded a $500 bonus for setting a course record, split evenly if broken by both genders. NOTE: Winner takes ALL – if multiple runners come in under the current course record (see below), only the winning time for men and / or women will earn the $500 course record bonus.
2022 Mile of Truth Champions
Aric Champain (CA), 4:45
Sabrina Noriega (CA), 5:30
EVENT RECORDS
4:13 Corey Bellemore (CAN), 2019
4:45 Rachel Schneider (USA / AZ), 2019
The Mile of Truth will run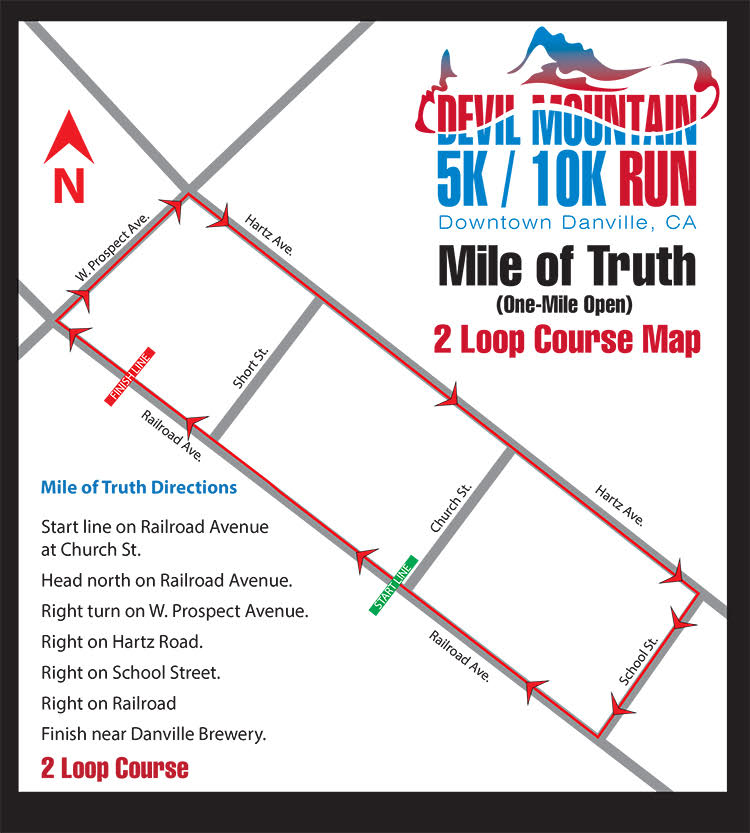 in six separate heats:
► 9:15am: Heat 1, Boys & Girls ages 14 & under
► 9:25am: Heat 2, Women 40 & over
► 9:35am: Heat 3, Men 40-49
► 9:45am: Heat 4, Men 50-plus
► 9:55am: Heat 5, Women Elite / Open (prize money)
► 10:05am: Heat 6, Men Elite / Open (prize money)
In addition, at 10:15am will be the start of the Buddi Love Dog Mile.
The Mile of Truth is also a BBTM Featured Event, showcasing America's best Mile races throughout the year.
Visit www.devilmtnrun.com for more information or to register.