VIRTUAL RACE IN 2020
Held annually on Father's Day and now in its fifth year, the Brooklyn Mile is a daylong running festival. It is the only road Mile held in NYC's largest borough: Brooklyn. As a registered non-profit, the event's sole beneficiary is Girls on the Run NYC and all monies earned from the event are directed to this charity.
The race is also making a sustainability effort by - last year - introducing reusable race totes and doing away with single-use plastic participant bags.
Comprised of nine separate heats, the Brooklyn Mile offers an exhilarating experience and festive atmosphere for participants and spectators alike. The USATF-certified course is flat & fast, and runs point-to-point along Williamsburg's main artery: Kent Avenue in North Brooklyn.
The event's festival and post-race party is held concurrently in adjacent and scenic East River State Park whose beautiful views of Manhattan's skyline are a perfect capper to an incredible race day.
Schedule of Events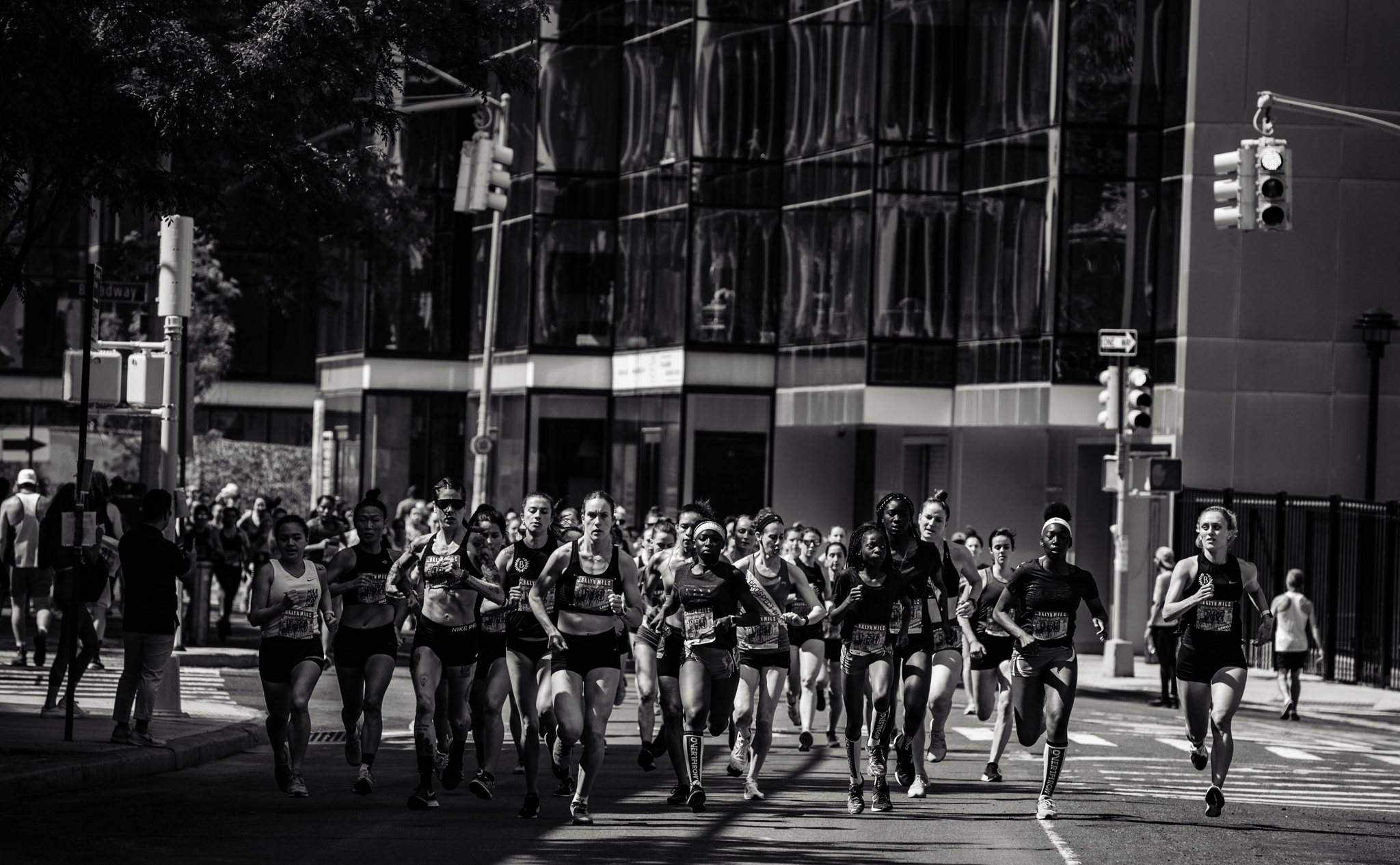 7:30am: East River State Park / Sponsor Expo opens
9:30am: Women's Masters Heat (age 40 & older)
9:50am: Men's Masters Heat (age 40 & older)
10:10am: Women's Open Heat
10:30am: Men's Open Heat
10:50am: Women's Fast Movers Invitational
11:10am: Men's Fast Movers Invitational
11:30am: The Quita Francique Friends & Family Mile
11:50am: Women's 4 x ¼ Mile Road Relay
12:10am: Men's 4 x ¼ Mile Road Relay
11:30am – 2:00pm: After-Party in East River State Park
The Fast Movers Invitational Mile: Prize Money
►$1000, $750 and $500 to each of the top three female & male finishers
►$250 course record bonus
►$250 to each of the top female and male finishers in the Fast Movers Mile who are Brooklyn residents (if no Brooklyn residents qualify for the Fast Movers invitational this award will default to the Open race)
The Brooklyn Mile remains committed to supporting Olympic development athletes as best as its non-profit budget allows.
EVENT RECORDS
4:04.43, Jack Bolas / Travis Mahoney (USA / NJ), 2016
4:35.00, Alexa Efraimson (USA / WA), 2017
2019 Brooklyn Mile Champions
Daniel Winn (USA / NY), 4:10
Feyne Gudeto Gemeda (ETH / NY), 4:42
Elite athlete contact, Matthew Rosetti: matthewrosetti@gmail.com