The Milers of Massachusetts: Carleo, Montague & O'Toole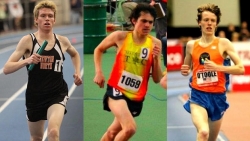 January 30, 2014
The Mile run. No matter the level of competition, it's the glamour event of track & field.
By Stephen Mazzone, Milesplit.com
Right now, for the state of Massachusetts, it's also a glamorous time of year for this signature race.
At the Boston Holiday Challenge on Dec. 28, Newton North senior Gabe Montague easily captured the Mile on the Reggie Lewis Athletic Center's banked oval with a personal-best clocking of 4 minutes, 15.82 seconds. Just seven days later on Jan. 4 at a Boston University Mini Meet, Newburyport junior Nick Carleo and Middlesex School senior Garrett O'Toole also excelled for the "eight-lapper." In a stacked Mile race that included collegiate and post-collegiate runners, Carleo matched the effort of Montague with a fifth-place time of 4:15.82. Finishing a few strides behind was O'Toole in sixth at 4:16.10.
Based on MileSplit's rankings this past week, the Bay State bunch own three of the top six Mile times from coast-to-coast. A few weeks ago, they were 1-2-3 on the list.
Surprisingly, except for Carleo and O'Toole's race at the beginning of the month, the talented trio has never had the opportunity to stand on the same starting line together. That will all change in Boston next month when the three runners compete together in the Junior Mile on Feb. 8 at the New Balance Indoor Grand Prix.
"It should definitely be a great race," Montague said. "They are tremendous runners. I don't know how it will play out but it should be interesting."
Making it to the top of the national list is certainly not by accident for these runners. Montague, Carleo and O'Toole came into the winter season with backgrounds destined for greatness once the starter's pistol is fired.
Continue reading at: www.milesplit.com