Seven Things You Should Know About Craig Engels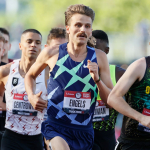 June 26, 2021
"I actually don't know how many miles a week I'm running. I don't care, just whatever my body is feeling."
By Sarah Lorge Butler, Runner's World
Craig Engels burst onto the U.S. running scene in 2017, during his final year at the University of Mississippi. He was the athlete with the mullet and mustache who loved mugging for the television cameras—and he could run, too.
Engels just missed making the Olympic team in 2016, finishing fourth in the 800 meters and fifth in the 1500. But he broke through in 2019, earning a spot on Team USA for the World Championships in Doha. He finished 10th in the 1500 in 3:34.24.
Now 27, Engels is hoping to make his first Olympic team, and things are looking good. He set his PR in the 1500 meters, 3:33:64, on May 29, which is the fastest time by an American so far this year. And in the first round at the Trials, he easily advanced to the semifinals, finishing third in his heat in 3:40.03.
Engels, who lives in Beaverton, Oregon, and trains with the Nike group under coach Pete Julian, spoke to Runner's World on June 15, after he had just finished up at the laundromat.
He likes doing construction projects
Engels buys, renovates and sells RVs. And last June, he bought a house in Beaverton on a large lot. He and teammates Eric Jenkins and Donavan Brazier built a fence to divide the lot, and Engels rents the front house out. When he's in town, he lives in the back in a pole barn he converted into a house with the help of his teammates and father and by watching YouTube videos.
"Learned how to do plumbing, electrical, everything," Engels said.
Pete Julian asked him to stop the physical labor until the Trials are over
"I've chilled out with extracurricular projects a little bit more," he said. "No working on RVs, or at least not working hardcore. Pete kind of got upset with me. I was digging trenches and building chicken coops and just working on my property. Pete was like, 'Can you just chill out until the Olympic Trials?'"
He regulates his social media time
For a period during the pandemic, he was trying to be good about responding to DMs, but then the demands people were making started to wear on him. These days, he isn't on too much. "When I'm on my phone, I'm on craigslist, looking at RVs," he said.
He has a new tattoo
It's an image of a van, and it's on his butt, according to the Winston-Salem Journal, which is Engels' hometown newspaper in North Carolina. He told the paper he might show it off at the after-party if he makes the Olympic team.
Continue reading at: runnersworld.com