Roger Bannister's legacy lives in Baylor track community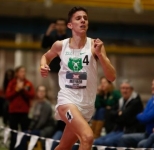 March 13, 2018
"He was such a role model for so many people in the running community... He went down as a legend."
By Nathan Keil, Sports Editor, Baylor Lariat
The winds were swirling all around the track on May 6, 1954, in Oxford, England. The conditions were less than ideal, but Sir Roger Bannister was not going to let the weather prevent him from making history.
Bannister walked toward the starting line at Iffley Road cinder track. As he prepared for the challenge of defying the impossible and braced for the moment he had been waiting for his entire life, Bannister had only one thing on his mind: break the 4 minute Mile barrier.
3:59.4 minutes later, Bannister collapsed in the arms of his supporters, celebrating his triumph and imprinting the sport of track & field forever.
Bannister described these final moments as he approached the finish line in his autobiography Twin Tracks.
"With five yards to go, the finishing line seemed almost to recede," Bannister wrote. "Those last few seconds seemed an eternity. The faint line of the finishing tape stood ahead as a haven of peace after the struggle. The arms of the world were waiting to receive me only if I reached the tape without slackening my speed. If I faltered now, there would be no arms to hold me and the world would seem a cold, forbidding place. I leapt at the tape like a man taking his last desperate spring to save himself from a chasm that threatens to engulf him."
Continue reading at: baylorlariat.com